1 killed and 4 injured in Woodlands accident: Car driver arrested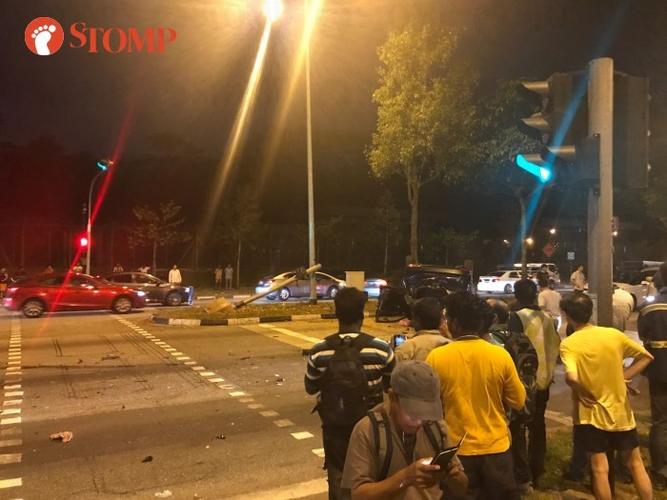 A shocking accident at the junction of Woodlands Avenue 12 and Avenue 1 yesterday evening (Aug 7) left one male motorcyclist dead and four others injured.
In response to media queries by Stomp, the police said that were alerted to the accident, involving a car, a lorry and two motorcycles, at 7.34pm.
A video, which several Stompers alerted Stomp to, shows a car that was travelling in the opposite direction hit a traffic light and flip over the central road divider, before ramming into the motorcyclist.
The 30-year-old motorcyclist, understood to be Muhammad Khairman Mohamed Sabari, was pronounced dead by paramedics at the scene.
In the clip, a second biker, believed to be a Malaysian, is also seen crashing into the overturned car, before getting knocked off his motorcycle.
He lay injured on the road as several other motorists and passers-by rushed to his aid.
The second rider, a male car driver and his female passenger were conveyed conscious to Khoo Teck Puat Hospital, a police spokesman told Stomp.
A one-year-old infant from the car was also conveyed conscious to KK Women's and Children's Hospital. The lorry driver had no visible injuries.
The 32-year-old male car driver was subsequently arrested for causing death by a negligent act and police investigations are ongoing.